About
Bio for E.M. Kokie
E.M. Kokie is the author of the young adult novels Personal Effects (Candlewick Press, 2012) and Radical (Candlewick Press, Fall 2016), and contributed short stories to the 2015 anthologies Things I'll Never Say: Stories About Our Secret Selves (Candlewick Press) and Violent Ends (Simon Pulse). She can be found online at www.emkokie.com and tweets as @EMKokie. Emily lives in Wisconsin with her wife and pet Wookie.
Longer Bio for E.M. Kokie
E. M. Kokie writes for teens because she is drawn to stories that grapple with issues of identity and self-determination, and characters confronting the line between childhood and adulthood.  Her most recent novel, Radical (Candlewick Press, 2016), explores such themes as family, identity, trust, guns, and what it really means to survive, through the eyes of a teen lesbian who is active in the survivalist movement. Her first novel, Personal Effects (Candlewick Press, 2012), explores loss, recovery, and competing visions of masculinity in the shadow of the conflict in Iraq. It was a YALSA Best Fiction for Young Adults and Amazing Audiobooks for Young Adults Top Ten, a Lambda Literary Award Finalist, and a 2013 IRA Young Adult Honor Book. She also contributed to the anthologies Things I'll Never Say: Stories About Our Secret Selves (Candlewick Press, 2015) and Violent Ends (Simon Pulse, 2015). As a lawyer, Emily loves a good story and a good debate. She likes to have the last word.  Emily lives in Wisconsin with her wife and pet Wookie. Emily can be found online at www.emkokie.com.
Want more? Ok, well:
I have always loved the way a good book could sweep me away, but I was a lazy student and never thought I could actually be a writer. So in between the usual tortures of high school, I made up stories, but kept them in my head. Now I share my stories—specifically, novels about teens on the cusp of life-changing moments, exploring issues of identity and self-determination.
E. stands for Emily. I was named for my grandmother, an amazing and resilient woman. The M. is a little bit of a tribute to her, and to my mother, an equally amazing woman.
I grew up in New Jersey, and really miss it now that I haven't lived there in a long time. But when I was seventeen, I couldn't wait to go off to college anywhere else (which turned out to be Virginia).
I have an older brother and two younger sisters. Now that I live in the mid-west, I don't get to see them nearly as much as I'd like. When we do get together, there's a lot of laughter. We like to laugh.
My parents were both public school teachers, and gave up many things so that my siblings and I didn't have to. I have a picture of my mom and dad at their junior prom, and they still dance better than any couple I know. They knew I could write a book years before I did.
In high school I played field hockey, was in the percussion section of the band, played a negligent mother on the mock trial team, was elected President of Senate A in New Jersey's Model Youth in Government, and did a lot of other things (the Ushers Club, for crying out loud) that pretty much ensured I was friendly with a lot of my classmates, but rarely invited to any parties. At the time, I felt like a freakish geek.
I did very little nonmandatory writing in high school, or college – as little as possible, actually, even of the mandatory kind. (Have I mentioned that I was a really lazy student?) I didn't really do homework on a regular basis either until law school, and even then, not as much as I should have. I got by – but I don't recommend it. I made school much more stressful by not doing my homework.
But while I was procrastinating and avoiding most of my assigned work, I read everything I could get my hands on. Books were a haven, an escape, a way to be someone else and do extraordinary things. I highly recommend reading a lot, especially if you want to be a writer. And read whatever books interest you – many different kinds of books, preferably.
I have always loved the way a good book can sweep you away to another time or place, and how a good story will stick with you for days. I like to imagine other ways the story could have gone, and other worlds the characters could visit. Sometimes I close the cover, and immediately want more. Sometimes I can't stop thinking about a scene or character for weeks, wondering what would have happened if the characters had chosen a different path, or like they were real people whose lives continue out of reach. Sometimes I'm even angry or frustrated with the outcome, but I can't stop thinking about why. I am an avid re-reader. Favorite books get well-loved over time.
I can't really remember a time when I couldn't read. I remember being read to, of course, but not really that process of learning to read (beyond the humiliating tiers of reading groups in school). What I remember clearly is the thrill of a new book, chosen and ready to be read. And that amazing thing in elementary school called library time. Later I moved on to the public library, and for a while, it was a huge, seemingly endless supply of books. And then for a while I became a library fugitive – I had a fine, and was convinced I would get in trouble if I went to the library. (A note to readers, librarians are generally cool people who will not imprison you or ban you from the library for fines). Eventually my fine was resolved, but not my shame, and I rarely went to the public library. But, we had a fantastic used bookstore in town, and I could keep myself in books fairly cheaply through the constant purchase, turn-back-in-for-credit, and repurchase cycle. And even more exciting, I don't remember anyone telling me any of these books were off limits. So, I read whatever interested me: high fantasy one week, realism the next, maybe a mystery or romance or historical when the interest struck. Forever, by Judy Blume, is the first book someone told me not to read. I read it three times, in secret. There was power in the knowledge that I could read whatever I wanted.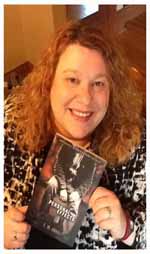 Long before I knew such a thing as fanfiction existed, I would rework my favorite stories in my head while I walked to school or before I fell asleep at night, rewriting scenes over and over until they felt just right, or taking the characters out for a little adventure all my own. And then I realized that I already was a writer, whether or not I wrote my stories down or let anyone else read them. It took some fits and starts to get the courage to let someone else read my own stories, to risk finding out my stories or my writing weren't good enough for anyone but me. I'm glad I did.
While I love books, I also know that the best characters and most compelling stories don't always happen in books. I'm an unapologetic television watcher. My favorite TV show of all time is Buffy the Vampire Slayer. Hands down. By far. A distant second? The West Wing, or maybe The Wire. But first and foremost, Buffy, always. (Joss Whedon, if you are reading this, call me.)
Photo manipulations courtesy of Barrett Dowell 
Save
Save