News and Happy 2015!
Happy 2015, friends!
What better way to usher in a new year than with a revamped and updated website. (Not as pretty as my old site, but it's a transition year and the new design will allow me to update more quickly and easily than the old one.) There are still a few bugs, but I'm working them out.
My website (and this blog) were pretty quiet in 2014. That's because I spent most of 2014 in the writing and revision cave, working on my second novel (working title, Radical), and writing and revising two short stories for anthologies that will be out later this year.  And I'm afraid 2015 is going to be largely a writing year, as well.
First, the anthologies coming out this year: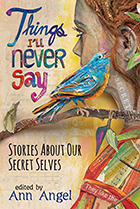 Things I'll Never Say: Stories About Our Secret Selves comes out March 24, 2015 from Candlewick Press. Edited by Ann Angel, the anthology focuses on the secrets people keep —from themselves, from their families, from their friends—and the ways secrets have a habit of shaping the lives around them. I'm thrilled to be part of the anthology.  My story, called "Quick Change," is about a teen in a family of grifters, conning everyone, maybe including herself.
Violent Ends is edited by Shaun David Hutchinson and comes out this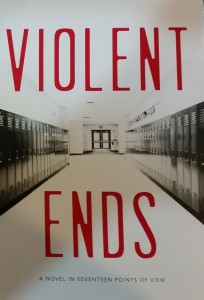 fall from Simon Pulse. A little bit of a twist on an anthology, Violent Ends is really a novel written by 17 authors, each writing from a different point of view, touching on a school shooting and the teen who committed the horrible act. My story is called "Astroturf," and examines how the grass isn't always greener, or even real, on the other side.
Check out the full cover that showed up in my mail this week!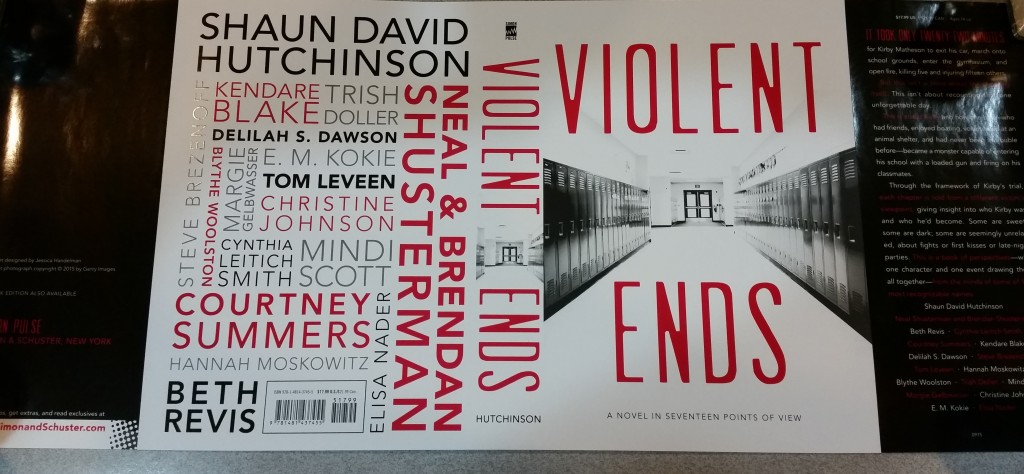 In addition to the anthologies, I've been diligently working on my second novel. Everyone told me second novels were hard, but nothing prepared me for the soul-crushing experience of writing one. It may be one of the most intellectually challenging things I have ever done (and I've taken three bar exams!). I am currently in the middle of another revision, and hope to have more information in a few months about the expected publication date.
Due to the demands of life, my day job, and the above writing deadlines, my appearances and events were limited in 2014, and I expect that to continue in 2015. I will, however, be at the ALA Summer Conference in San Fransisco in June. I hope that once this revision is complete, I'll get back on a regular blogging schedule here. But I check in more often on Twitter, and I blog monthly at The Pirate Tree.  In the meantime, I'm going to retreat back to the revision cave.