Cover Reveal & Swag Giveaway!
I am thrilled to finally be able to share the cover for Personal Effects!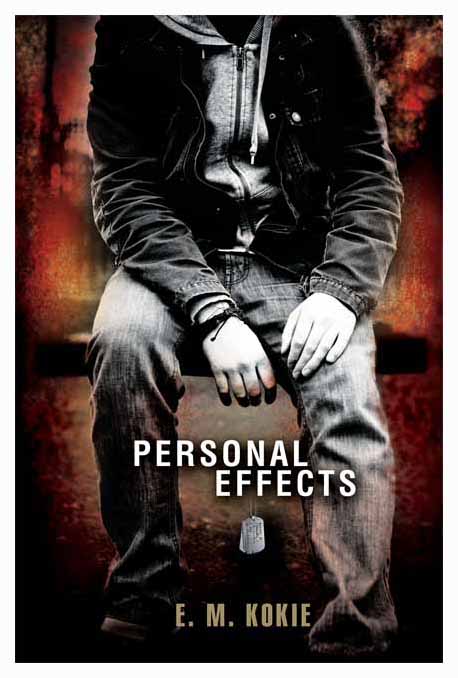 Personal Effects (September 2012, Candlewick Press)
Ever since his brother, T.J., was killed in Iraq, Matt feels like he's been sleepwalking through life — failing classes, getting into fights, and avoiding his dad's lectures about following in his brother's footsteps. T.J.'s gone, and the worst part is, there's nothing left of him to hold on to. Matt can't shake the feeling that if only he could get his hands on T.J.'s stuff from Iraq, he'd be able to make sense of his death. He wasn't expecting his T.J.'s personal effects to raise even more questions about his life.
Now, even if it means pushing his dad over the edge …
even if it means losing his best friend …
even if it means getting expelled from school …
Matt will do whatever it takes to find out the truth about his brother's past.
Candlewick Press produced just a stunning and pitch-perfect cover for Personal Effects, one that nailed the emotion and themes and heart of this book. (Take a bow cover designer Pam Consolazio, and the entire Candlewick staff, for this amazing cover).
And to celebrate, I'm giving away three sets of custom Personal Effects dog tags!
Edited March 7, 2012, 12:24 p.m. CST: 
Thanks for all the great comments,  adds, likes, RTs, etc. everyone!  The swag giveway is now closed.
Check back here Friday to see who won the three sets of dog tags!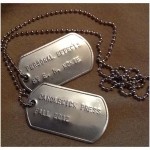 Three Ways to enter – between now and Noon Central Time on Wednesday, March 7, 2012:
1.  Like or Leave a comment on the cover reveal post on my author Facebook Page;
 2. Add Personal Effects on Goodreads (if you have already added Personal Effects, you're already entered!); or
3. Tweet/Re-tweet the link to this cover reveal blog post (make sure @emkokie is in the tweet in order for it to be counted).
Or do all three.
I will give away one set of dog tags from each entry pool – ie, one set from the Twitter, one set from Facebook, and one set from Goodreads. Check back here on Friday, March 9, 2012 to see if you won.
~~~~~~~
Also, Personal Effects is available for pre-order from most major retailers, including IndieBound, Powells, Barnes & Noble, and Amazon… HOWEVER:
If you would like an autographed copy of Personal Effects, then pre-order from A Room of One's Own independent bookstore .*** For all copies pre-ordered through a Room of One's Own, I will go in and autograph the  books before they are shipped out to you!
***NOTE:  For some reason, there is currently no "Add to Cart" button on the page for Personal Effects at Room's site or IndieBound.  To order, click on E.M. Kokie just under the title, and it will take you to a search screen. Scroll down, and below the search form, will be Personal Effects with an "Add to Cart" button. Sorry for the inconvenience. I am told it is temporary and the "Add to Cart" button should be live on the Personal Effects page soon).
I am so excited that Personal Effects will be out in the world soon, and I can hardly wait to share it with you!
Thank you for sharing my excitement!
Emily