Winners (and Thank You)!
Thank you to everyone who commented, tweeted, added, Facebooked, etc. to help celebrate the cover reveal for Personal Effects! I am so excited to announce the three winners of the custom dog tag swag.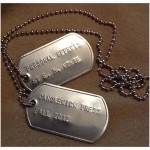 They are:
From the adds on Goodreads ~ Cari!
From the likes and comments on the cover reveal post on Facebook ~ Zara D. Garcia-Alvarez!
From Twitter ~ @Tuphlos!
Each of the winners, please email me a mailing address at emkokie (at) gmail (dot) com and I will get your dog tags out in the mail to you (also, please indicate whether you would like a 6-inch chain (like for a key chain) or a 24-inch chain).
To everyone who entered and didn't win, keep your eyes on Twitter and Facebook . . . you never know when another opportunity to win a set might show up.
I've had some emails asking about how to request an Advance Reader Copy (ARC) of Personal Effects. In the next few weeks or so, I'm hoping to update my website with an ARC request form and some exciting bits of news regarding Personal Effects.  In the meantime, thank you again for helping to make the exciting cover reveal all the more special!
Emily
P.S. The swag giveaway may have ended, but the pre-order arrangement through A Room of One's Own independent bookstore continues (scroll down for pre-order instructions)!