Grieving
Grief. It's such a strange thing. Everything feels foggy and raw.
There are so many amazing things happening in my life – my book life and my every day life. And somehow today it all matters less – and  so much more – at the same time.
I lost a friend today.
A talented, beautiful, loving, funny (so funny), wonderful woman. She died too young and too soon and with so much left unfinished. She had a loving, wonderful husband, and a lot of hopes and dreams. And a book  – many books I'm sure –  her debut YA novel still in the publishing pipeline.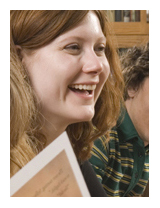 Bridget Zinn was an amazing person.
And she will be missed.
It was Bridget who brought me into my critique group – foisted me on them, actually, and luckily it was a good fit.  Without that group, I don't think I would have finished my first novel so quickly, and it certainly wouldn't have been nearly as good.
And yet, today I'm just grateful to have known her at all. To have become her friend.
She was a good person, excellent to talk writing and publishing and life with. Someone to laugh with. And celebrate with.  Share cake with and smile with.
My thoughts are with her husband Barrett, her family and other friends, and with anyone who ever crossed paths with her – because she was one of those people who made an impression. She was memorable, and she will be remembered.
I'll honor her in so many ways. I'll miss her no matter what I do. And I am sad.
****
5/26/11:  Reading others' posts and tributes is making me cry and smile and sometimes even laugh – to celebrate Bridget, and what she meant (and still means) to so many.
I'll post links to some of the other posts and tributes as they appear, like the beautiful post at the Upstart Crow blog by Bridget's agent, Michael Stearns, and this post by fellow writing group member, Georgia Beaverson.
And more… Steve Duin of Oregon.live wrote about The Legacy of Bridget Zinn.
Posts from authors Cynthia Leitich Smith, April Henry, John Green, Suzanne Young, and….so many more. Too many to list them all, though I will continue to add links as the inspiration strikes.
Bridget's Facebook page right now shows a glimpse of her impact on the world…she changed it for the better, by touching all of our lives.
5/30/11   There is now an In Memory of Bridget Zinn community page on Facebook, where people are posting stories and photos celebrating Bridget's life.